Technical Dates of 
LSAW Steel Pipe 
Types

Standard

SY/T5040-2000

SY/T5037-2000

SY/T9711.1-1977

ASTM A252

AWWA C200-97

API 5L PSL1

Tube end OD deviation

±0.5%D

±0.5%D

-0.79mm~+2.38mm

<±0.1%T

<±0.1%T

±1.6mm

Wall thickness

±10.0%T

D<508mm, ±12.5%T

-8%T~+19.5%T

<-12.5%T

-8%T~+19.5%T

5.0mm

D>508mm, ±10.0%T

T≥15.0mm, ±1.5mm
Standard

Grade

Chemical Composition(max)%

Mechanical Properties(min)

C

Mn

Si

S

P

Yield Strength(Mpa)

Tensile Strength(Mpa)

GB/T700-2006

A

0.22

1.4

0.35

0.050

0.045

235

370

B

0.2

1.4

0.35

0.045

0.045

235

370

C

0.17

1.4

0.35

0.040

0.040

235

370

D

0.17

1.4

0.35

0.035

0.035

235

370

GB/T1591-2009

A

0.2

1.7

0.5

0.035

0.035

345

470

B

0.2

1.7

0.5

0.030

0.030

345

470

C

0.2

1.7

0.5

0.030

0.030

345

470

BS En10025

S235JR

0.17

1.4

-

0.035

0.035

235

360

S275JR

0.21

1.5

-

0.035

0.035

275

410

S355JR

0.24

1.6

-

0.035

0.035

355

470

DIN 17100

ST37-2

0.2

-

-

0.050

0.050

225

340

ST44-2

0.21

-

-

0.050

0.050

265

410

ST52-3

0.2

1.6

0.55

0.040

0.040

345

490

JIS G3101

SS400

-

-

-

0.050

0.050

235

400

SS490

-

-

-

0.050

0.050

275

490

API 5L PSL1

A

0.22

0.9

-

0.03

0.03

210

335

B

0.26

1.2

-

0.03

0.03

245

415

X42

0.26

1.3

-

0.03

0.03

290

415

X46

0.26

1.4

-

0.03

0.03

320

435

X52

0.26

1.4

-

0.03

0.03

360

460

X56

0.26

1.1

-

0.03

0.03

390

490

X60

0.26

1.4

-

0.03

0.03

415

520

X65

0.26

1.45

-

0.03

0.03

450

535

X70

0.26

1.65

-

0.03

0.03

585

570
 Surface of LSAW Steel Pipe 

Bare, Lightly Oiled, Black/Red/Yellow Painting, Zinc/Anti-corrosive Coating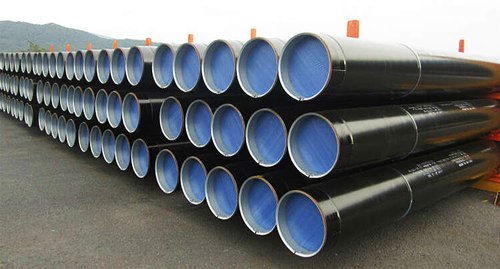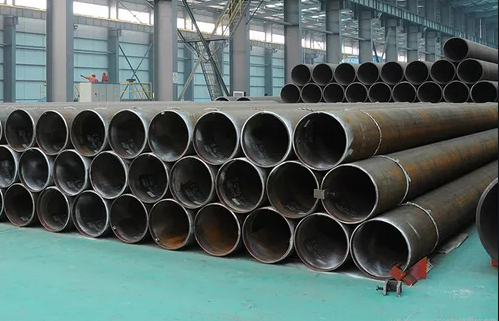 Packing of LSAW Steel Pipe 
 Bundled/In Bulk, Plastic Caps Plugged, Waterproof Paper Wrapped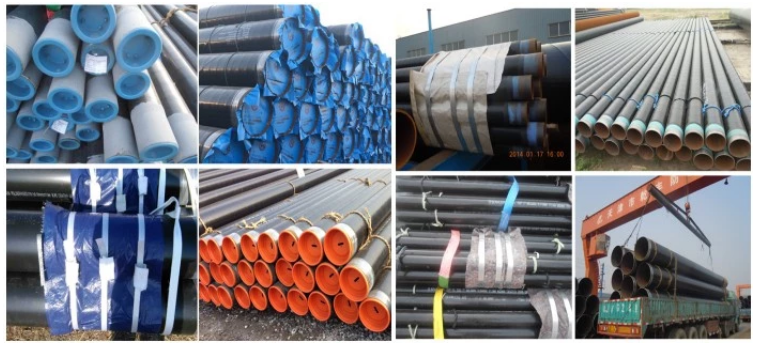 Product Advantages of LSAW Steel Pipe 

(1) Without the unwind process, the base material indentation, scratch less.
(2) The wrong side, slotted, and other easy-to-diameter perimeter control, excellent welding quality.
(3) The elimination of flaring basically does not exist residual stress after stress.
(4) Because it is a straight line weld, the weld is short, little risk of defects.
(5) After expanding, pipe geometry accuracy is improved greatly facilitate the on-site welding.
(6) For a straight seam, less impact on the quality of anti-corrosion coating materials.