LINE PIPE:
Line Pipe is one of the transportation method used for transporting oil, natural gas and water through pipeline to the oil and gas industry. 
Line Pipe Type: Seamless Steel Pipe, Welded Steel Pipes
Line Pipe Ends Type: Plain Ends, Threaded Ends, Socket Ends
Line Pipe Connection Type: Welding Connection, Coupling Connection, Socket Connection
API 5L Line Pipe Steel Grade: GR.B, X42, X52, X60, X65, X70, L245, L290, L320, L360, L450, L485
API 5L Line Pipe Specification: 
                                                -Seamless Steel Pipe Specification: Outside Diameter: 10.3mm ~ 1016mm, Wall Thickness: 1.7mm ~ 52mm;
                                               - ERW Steel Pipe Specification:  Outside Diameter: 21.3mm ~ 660mm, Wall Thickness: 1mm ~ 20mm;
                                               - LSAW Steel Pipe Specification: Outside Diameter: 406mm ~ 1626mm, Wall Thickness: 6.0mm ~ 75mm;
                                               - SSAW Steel Pipe Specification: Outside Diameter: 219mm ~ 4060mm, Wall Thickness: 3.2mm ~ 40mm;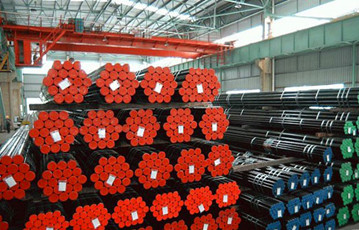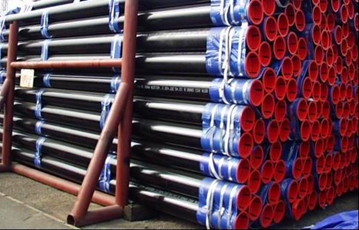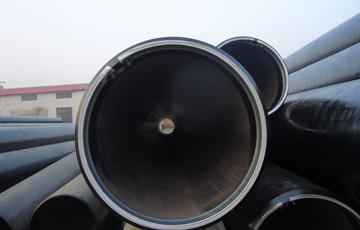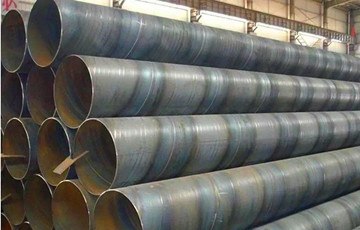 API 5L LINE PIPE STANDARD:
ISO 3183 / API 5L Line Pipe Standard is one of the most significant international standards in the oil and gas pipeline industry. Nowadays, API 5L Line Pipe Standard is widely applied all over 
the world. Jointly completed by ISO and American Petroleum Institution, the 44th Edition ISO 3187:2007 / API Spec 5L Line Pipe Standard has caused widespread impact internationally. The revision was launched in April 2010, collected and processed more than 400 comments all over the world. At the end of 2012, the edition API 5L Line Pipe Standard was formally approved, 
and it was formally released on February 18, 2013. Compared with the previous edition, ISO 3183:2012 / API Spec 5L Line Pipe (45 edition) has added two technical appendices which are 
Appendix M: European Onshore Natural Gas Pipeline PSL2 Steel Pipe Order and Appendix P: Threaded and Coupled Calculation Formula, Guide Bending and Charpy Impact Calculation 
Background. Besides, in the new edition of API 5L Line Pipe Standard, there are few technological changes such as manufacturing processes, performance indicators, test methods. 
The new API 5L Line Pipe Standard is more perfect and science after a lot of editorial changes and textual representation of adjustment. 
API 5L LINE PIPE PSL1 & PSL2:
API 5L Line Pipe Standard has put forward specific requirements on the manufacturing of seamless and welded steel pipe including two steel pipe specification level (PSL1 and PSL2). API 5L 
Line Pipe is widely used for petroleum and natural gas industry pipeline transportation systems, but this API 5L Line Pipe criterion is not suitable for the cast iron pipe. PSL is the abbreviation 
of Product Specification Level which is the quality level of API 5L Line Pipe. API 5L Line Pipe has two standards which are PSL1 and PSL2. Although these two standard only have one word 
difference, the content is very different. PSL2 is a higher quality level than PSL1. Both standard level have different levels of inspection requirements, chemical composition requirements, 
mechanical properties requirements, mechanical properties requirements. When making order follow the API 5L Line Pipe Standard, the purchaser need to indicate the level of standard 
(PSL1 or PSL2) regard of the basic contract terms such as product specification, steel grades, order quantity etc. In general condition, if the contracts do not mention the standard level, 
the manufacturer will produce in accordance with the standard of PSL1. To be more specify, the differences are including:
        1. Pipeline Hydro-static Test should be done piece by piece, and the API 5L Line Pipe Standard does not specify to allow non-destructive alternative hydro-static testing. 
        2. Impact performance test is necessary for PSL2 standard, while PSL1 is not necessary for this type of test. 
        3. Non-destructive Test should be applied for PSL 2 standard pipe piece by piece, while for PSL1 standard is not required. 
API 5L Line Pipe Standard is similar to the Chinese Standard GB/T9711. API 5L Line Pipe PSL1 is equivalent to the GB/T9711.1. Compared with API 5L Line Pipe PLS1, API 5L Line Pipe 
PSL2 standard level requires more impact energy experiments, so the production time and production cost for the manufacturers will increase. Besides, API 5L Line Pipe PSL2 standard 
requires a higher quality level of raw materials for producing steel pipes, the raw materials ordering time will be longer than the PSL1 standard steel pipe raw materials. Moreover, in order 
the reach the quality standard of PSL2 and also control the production cost of the factory, the manufacturer will set up a higher level of minimum order quantity for the purchasers. For 
API 5L Line Pipe PSL2, some time purchasers will request for following NACE standard which means during the production the manufacturers have to add hardness and acid resistance test 
for the pipes to reach a even higher quality level of steel pipes. 
Tolerance of Outside Diameter
Standard

Out Diameter




Tolerance of Pipe End




Tolerance of Pipe Body

API 5L

219.1~273.1

+1.6mm, -0.4mm




±0.75%




274.0~320




+2.4mm, -0.8mm




±0.75%




323.9~457




+2.4mm, -0.8mm




±0.75%




508




+2.4mm, -0.8mm




±0.75%




559~610




+2.4mm, -0.8mm




±0.75%

 
Tolerance of Wall Thickness
Standard

Grade




Out Diameter




Wall Thickness

API 5L

A

219.1~457




+15%, -12.5%




B

508~610




+17.5%, -12.5%




X42-X80

508~610




+19.5%, -8%
Chemical Analysis & Mechanical Properties
Standard

Class

Grade




Chemical Analysis(%)




Mechanical Properti

es

(min)(Mpa)




C

Mn

P

S

Tensile Strength




Yield Strength

API 5L

PSL1

B




0.26




1.20




0.030




0.030




414




241




X42




0.26




1.30




0.030




0.030




414




290




X46




0.26




1.40




0.030




0.030




434




317




X52




0.26




1.40




0.030




0.030




455




359




X56




0.26




1.40




0.030




0.030




490




386




X60




0.26




1.40




0.030




0.030




517




414




X65




0.26




1.45




0.030




0.030




531




448




X70




0.26




1.65




0.030




0.030




565




483




PSL2

B




0.22




1.20




0.025




0.015




414




241




X42




0.22




1.30




0.025




0.015




414




290




X46




0.22




1.40




0.025




0.015




434




317




X52




0.22




1.40




0.025




0.015




455




359




X56




0.22




1.40




0.025




0.015




490




386




X60




0.22




1.40




0.025




0.015




517




414




X65




0.22




1.45




0.025




0.015




531




448




X70




0.22




1.65




0.025




0.015




565




483




X80




0.22




1.85




0.025




0.015




621

552